Jean Augustine  
Canada's First black women Member of Parliament and Cabinet Minister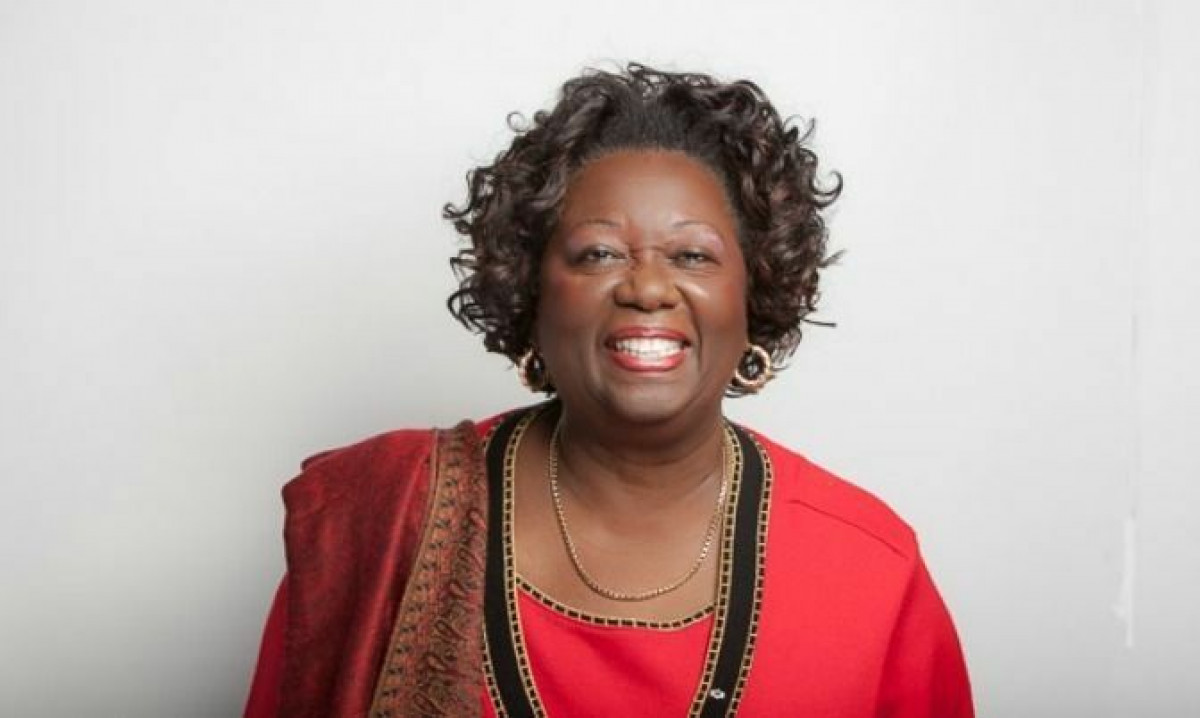 Born in 1937 in St. Georges, Grenada, Jean Augustine was the first black female Member of Parliament (1993) and Cabinet Minister of Multiculturalism and the Status of Women (2002).  Before becoming an MP she was a teacher, principal and social justice advocate.  Retired form government, she continues as leader and advocate for women, economic equality and inclusion in Canada. 
Champion of Black History Month 
In the mid-1990s, Jean Augustine played a crucial role in establishing Black History Month in Canada. Though individual communities had held celebrations as far back as the 1950s — e.g., in Halifax and Toronto — none existed federally. However, in 1979, the Ontario Black History Society made significant headway when it convinced the City of Toronto to formally declare February as Black History Month. In 1993, the Society successfully petitioned the Ontario government to declare a province-wide celebration.  Motivated by this victory,  they approached Augustine about extending Black History Month across the nation.   Augustine enthusiastically supported the idea.  She spoke about why she believes Black History is so important to the Canadian Museum for Human Rights, stating,
I was an educator.… I recognized that the classroom curriculum was saying very little about African Canadians. The same thing was done to Indigenous peoples — if there was any reference, it was either in the footnote or as a sideline.  Black Canadians were not part of the script and were not shown contributing to Canadian society.
With that in mind, Augustine put a motion before Parliament to officially recognize February as Black History Month, asking, "That this House take note of the important contribution of Black Canadians to the settlement, growth and development of Canada, the diversity of the Black community in Canada and its importance to the history of this country."  The motion passed unanimously in December 1995, and February was proclaimed Black History Month in Canada.
SOURCES
Updated by Eli Yarhi Published Online February 13. "Black History Month in Canada." The Canadian Encyclopedia, www.thecanadianencyclopedia.ca/en/article/black-history-month-in-canada.
"Biography." Jean Augustine, www.jeanaugustine.ca/jean-augustine-bio/. 
Sir James Douglas (1803 – 1877) the first Governor of the Colony of British Columbia; often credited as The Father of British Columbia.
Sir James Douglas, Governor of the British Colony of Vancouver Island (1851–64) and British Columbia (1858–64)
James Douglas was born in Demerara, Guyana in 1803, the son of John Douglas, a Scottish planter and merchant from Glasgow who owned a sugar plantation with his three brothers. His mother, Martha Ann, was the daughter of Rebecca, a free woman of colour, who ran a boarding-house in Georgetown and owned thirty slaves. Martha Ann was classified as free coloured which in that time and place meant someone of mixed African and European family history who was not a slave.  James and Martha Ann had three children together, although they were never formally married.
James Douglas was born in the South American country of Guyana, in 1803.
In 1812 his father returned to England with his three children, leaving behind Martha Ann. In 1819 John Douglas married and had a second family.  Douglas attended school in Scotland where he became fluent in French.
At the age of sixteen his application to join the North West Company (NWC) was accepted and in 1819 he sailed to Montreal.  In 1821, with the value of the fur trade in decline, NWC merged with Hudson's Bay Company (HBC).
In 1825 Douglas was assigned to Fort St. James on Stuar Lake, headquarters of the Hudson Bay Company's New Caledonia District, (British Columbia today).  William Connelly was the HBC Chief Factor (manager of the fur trading post) and the two men formed a close relationship.  As a measure of his respect for the younger man, Connelly agreed to perform a common law marriage ceremony on April 27, 1828 between Douglas and his Metis Cree daughter, Amelia Connelly. In 1837 they were married a second time in an Anglican ceremony at Fort Vancouver.
Lady Amelia Douglas (1812 – 1890) gave birth to thirteen children, only six of whom survived to adulthood.  While her children were raised in accordance with Victorian sensibilities, she also taught them about their Cree heritage.
In 1840, Douglas travelled to Alaska to negotiate boundary and trade deals with the Russian American Company. In 1843, as American expansionist ambitions in the Pacific Northwest increased, Douglas began constructing Fort Victoria on the southern tip of Vancouver Island to replace the northern coastal forts lost to the United States. The new trading post secured Vancouver Island for Britain during the Oregon Treaty negotiations, held in 1846, that established the forty-ninth parallel as the border between the United States and British North America in the West.
In 1851 Douglas was chosen Governor of the Colony of Vancouver Island.  From 1850 to 1854, Douglas negotiated 14 land purchases with First Nations on Vancouver Island, including land in and around Fort Victoria, Fort Rupert and Nanaimo. These are known as the Douglas Treaties or Fort Victoria Treaties. Lands were purchased in exchange for small amounts of cash, clothing, blankets, occupation of reserved lands, and hunting and fishing rights on unoccupied ceded lands. The Douglas Treaties have been in dispute for many years.  Some people believe that they were negotiated in bad faith and took unfair advantage of the First Nations, who were deliberately misled about both the content and the significance of the documents that they signed with an 'X,' believing that it was a sign of the Christian cross and representative of spirituality, not a legal signature giving away their lands and resources.
In 1858 Douglas reached out to the BIack community in San Francisco, some of whom had expressed an interest in immigrating to British North America. A United States Supreme Court decision in 1857 had denied citizenship to both free and enslaved African Americans. Douglas promised them British citizenship after five years of land ownership. Several hundred Black families accepted the offer and moved to Fort Victoria.
In November 1858 Douglas was made Governor of the newly created Colony of British Columbia.  During his tenure he opposed democracy, discouraged American annexation, secured mineral rights for the Crown and initiated the building of roads in the interior of British Columbia. He also presided over the Fraser River Gold Rush, the Fraser Canyon War and the Cariboo Gold Rush.
Upon his retirement in 1864 Douglas was granted an investiture by Queen Victoria.
SOURCE:
"Sir James Douglas" Canadian Encyclopedia. January 22, 2021. https://www.thecanadianencyclopedia.ca/en/article/sir-james-douglas
Mukisa Kakembo, 23, Schulich School of Law, Dalhousie Nova Scotia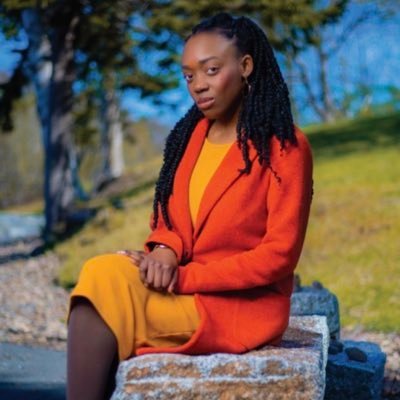 Mukisa Kakembo is a third year student at Dalhousie's Schulich School of Law, interested in advancing the protection of human rights and access to justice. She is a member of the Dalhousie Black Law Students Association.
In 2019 Mukisa Kakembo was awarded a summer internship working at the Elizabeth Fry Society of Mainland Nova Scotia, a local non-profit organization that engages with vulnerable women who have been incarcerated, to help them foster a strong sense of identity and selfhood, gain access to resources, and develop the skills necessary to create a stable and meaningful life for themselves after prison.
"My internship gave me the opportunity to provide legal support for women in Nova Scotia and advocate for the rights of diverse cis and LGBTQ+ women. I gained experience in the field of prison law, criminal law, civil law and family law. It was a unique opportunity to work with clients and support them through some of the most difficult circumstances of their life. It was an emotional, yet very empowering journey."
Her duties at Elizabeth Fry included conducting research to improve women's access to justice, meeting with clients, assisting women in finding legal representation, and finding housing for women transitioning out of prison.
However, her role was about more than legal work. She was able to support women on a personal level.
"The relationships I built with both the staff and clients gave me a much wider understanding of the impact of criminalization, and which community supports are needed to build women's resilience so that they can be successful in the future. I gained invaluable skills that have made me even more passionate about working towards social justice in the field of law."
The highlight of Kakembo's internship was helping to get women out of prison and connecting them to the resources they needed to support their reintegration into society. The experience impacted her both personally and professionally, helping her face her ow
n learned bias about people who have been criminalized.
"I gained a new perspective by talking to clients about their lives. Seeing the complexity of their backgrounds and experiences reduced any stigma I may have had towards criminalized people. I got to witness people's journeys and see how the Elizabeth Fry Society empowers them to heal, pursue higher education, and find employment when given the proper environment. Overall, the highlight of my experience was gaining the skills to be a resource for our clients."
Working at the Elizabeth Fry Society showed her the unique challenges women face within the criminal justice system, teaching her to apply a feminist lens when analysing law enforcement and legal institutions.
"The clients I worked with had faced trau
ma, were living in poverty, or had health issues. This experience made me think more critically about the principles of our criminal justice system, and the lack of support for rehabilitating offenders," says Kakembo.
"Most wanted to improve themselves, but they didn't have the money nor resources. When people are empowered with the tools they need to thrive, they have more to give back to their families and communities. If the criminal justice system gave those who have been criminalized the opportunity to get the help they need, we would undeniably have a stronger society."
The experience affirmed her belief that the criminal law system needs deep systemic change to better address women's needs. Particularly, change that would address the needs of Indigenous and Black women, who she believes require a more holistic and culturally appropriate approach.
"This internship motivated me to fight to change the meaning of justice to one
that prioritizes rehabilitation and reconciliation, rather than punishment."
SOURCE:
"A Transformative Internship." Dalhousie University. January 21, 2021. https://www.dal.ca/faculty/law/news-events/news/2020/10/01/advocating_for_the_rights_of_women.html
Winnie Harlow
Chantelle Brown-Young, otherwise known as Winnie Harlow, is a Canadian fashion model, spokesperson, and activist. Harlow was born on July 27th, 1994, in Toronto, Ontario, to Jamaican parents Windsor Young and Lisa Brown. She uses the pseudonym 'Winnie Harlow,' which was inspired by Winnie The Pooh and American actress, Jean Harlow.
At the age of four, Harlow was diagnosed with a chronic skin disease called Vitiligo: an autoimmune disorder in which white patches of skin appear on different parts of the body. The cells that make pigment in skin, melanocytes, are attacked and destroyed resulting in discoloured patches. According to Health Insight, Vitiligo affects one in every one-hundred people.
Despite the condition having no impact on the health of an individual, it can affect many peoples emotional and psychological wellbeing, resulting in feelings of anxiety, depression, and alienation. Harlow was frequently a victim of bullying at school, admitting in an interview, "I don't think my skin condition affected my self-esteem as much as the people around me affected my self-esteem." Her classmates would often refer to her as "cow" or "zebra" due to her skin ailment. Harlow would begin using makeup to cover up her blemishes and transfer to many different schools only to come face to face with the same constant harassment.
Nevertheless, Harlow preserved and even recorded a video with Toronto journalist, Shannon Boodram, to spread awareness about her condition at age sixteen. This show of courage garnered over 150,000 views on YouTube and encouraged her to become a model, as she had no previous inhabitations to do so before then. With her newfound confidence and blossoming future, Harlow launched her professional modelling career by setting up an Instagram page to display her pictures. Instantaneously, she received success and was dubbed an "Instagram model," quickly being contacted by Tyra Banks, American model and producer of the hit show, America's Next Top Model. Harlow was personally invited to be on the show's twenty-first cycle. She is the only Canadian to be featured as a contestant on the show. Despite not winning, Harlow was adored by the audience who commended her for her strength to overcome the unpleasant comments and opinions of her peers. The show would eventually act as a turning point for her as she accumulated a large following and became the official fashion ambassador of the famous line, Desigual.
Harlow would go on to walk in many well-acclaimed shows and win the Shorty Award for Best in Fashion and the Glamour Editor's Award in 2017, which honours extraordinary and inspirational women in a variety of fields. At the Glamour Editor's show in 2017, Harlow delivered a heart-felt speech about being so much more than just her skin, (the video is linked below). Most notably, she won Breakthrough Model of the Year at the 2018 Daily Front Row Fashion Media Awards, (picture linked below).
Winnie Harlow continues to preach individuality and authenticity. She has completely redefined the modelling industry that has been rife with outdated stereotypes of beauty. Harlow inspires her peers to embrace change, love what makes us unique, and never stray from being ourselves. She is a testament to the courage required to question societal norms and make an impactful difference.
Winnie being awarded the Breakthrough Model of 2018.
SOURCES
"Winnie Harlow: Her Emotional Story With Vitiligo." Health Insight, 20 Feb. 2020, www.healthinsight.ca/advocacy/winnie-harlow-her-emotional-story-with-vitiligo/.
Lafuente, Cat. "The Untold Truth Of Winnie Harlow ." TheList.com, The List, 11 Aug. 2020, www.thelist.com/183638/the-untold-truth-of-winnie-harlow/.
Violet King
Violet Pauline King, born on October 18th, 1929 to parents John and Stella King in Calgary, Alberta, was the first Black Canadian to obtain a law degree in Alberta, the first black person admitted to the Alberta Bar, and the first Black female lawyer in Canada. Her parents were a part of a large group of African American farmers who migrated to Canada from Oklahoma in 1911. The government would quickly discourage Black immigration shortly after. Her father, John, worked as a sleeping car porter, a railway employee who catered to passengers aboard sleeping cars, for the Canadian Pacific Railway. Her mother, Stella, was a seamstress. The couple would have four children together: Violet, Vern, Lucille, and Ted.
Violet King attended Crescent Heights High School, before pursuing her education at the University of Alberta. She was one of three women in the Faculty of Law. During her time at the University of Alberta, she was a member of the Blue Stocking Club, a discussion group for women on history and public affairs. King served as the Alberta representative for the 1952 International Student Services Conference in Hamilton, Ontario. She and other prominent future political leaders like the premier of Alberta, Ivan Head, would receive an Executive "A" gold ring to celebrate students who made significant contributions to the University of Alberta.
King would obtain her Bachelor of Arts degree in 1952, and her LLB degree in 1953, making her the first Black person to graduate law school in Alberta and the only woman in her graduating class. Afterwards, she worked as an articled student for Edward J. McCormick's Calgary firm. She was called to the Alberta Bar on June 2nd, 1954, cementing herself as the first black female lawyer to practice law in Canada. Her admission made headlines in several newspapers, and it wasn't until ten years later, that another Black person would be admitted to the Alberta Bar. She would be recognized for her achievements by the International Brotherhood of Sleeping Car Porters and Maids, who were the first labour union organized by African Americans and affiliated by the American Federation of Labor.
She would continue to practice law in Calgary and speak publicly about racism in the workplace in 1955, saying, "[it] is too bad that a Japanese, Chinese, or coloured girl has to outshine others to secure a position." King would move to Ottawa in 1956 to work for the Department of Citizenship and Immigration before becoming executive director of Newark YMCA's Community Branch in New Jersey. During her time, she would help Black applicants seek employment opportunities.
King would once more move in 1969 to Chicago to become the director of manpower for the YMCA. In 1976, she would achieve another milestone, becoming the first woman named to an executive position with the YMCA, with her appointment as the executive director of the National Council of YMCA's Organizational Development Group.
Violet King would pass away from cancer in New York, on March 30th, 1982, at the age of fifty-two. King's stellar line of accomplishments broke colour barriers during a particularly hostile time for Black Canadians. As she rose in the rankings, she remained outspoken about the lack of rights for minorities and continued to fight for change within the system. Violet King is an inspiration to strive for excellence to fulfil your dreams. She was inducted to the National YMCA Hall of Fame in 1998.
Violet King receiving an award from the International Brotherhood of Sleeping Car Porters and Maids.
SOURCES
Ruck, Lindsay. "Violet King." The Canadian Encyclopedia, Historica Canada, 24 Jan. 2019, www.thecanadianencyclopedia.ca/en/article/violet-king.
Macfarlane, Bill. "Alberta's First Black Lawyer Remembered by Childhood Friends." CTV News, CTV News, 21 Feb. 2020, https://calgary.ctvnews.ca/alberta-s-first-black-lawyer-remembered-by-childhood-friends-1.4821385.
Stanley Grizzle
Stanley G. Grizzle, born Stanley George Sinclair Grizzle, was born on November 18th, 1918, in Toronto, Ontario, to Jamaican parents, Theodore and Mary Sinclair Grizzle. He was the oldest of seven children. Grizzle's parents immigrated to Canada from Jamaica in 1911. Theodore received a job as the chef for the Grand Trunk Railway and even began his own taxi company. Nevertheless, it underwent financial woes during the Great Depression. Stanley Grizzle was a railway porter, solider, civil servant, citizenship judge, and activist. After high school, Grizzle's parents found it challenging to send him, or his six siblings, to post-secondary. Nevertheless, in 1938, at the age of nineteen, Grizzle would become the co-founder of the Young Men's Negro Association of Toronto, launching his fight for the rights of Black Canadians.
Two years later, he would begin to work as a sleeping car porter for the Canadian Pacific Railway (CPR). This was a common job amongst Black Canadians, as it was the only job that would hire Black men at the time. As a sleeping car porter, Grizzle would make beds, clean toilets, and shine shoes. The most demeaning aspect of his job was the nickname "George," which was given to the sleeping car porters by White passengers, in homage of George Pullman, the inventor of the Pullman sleeping car. A few years later, the Brotherhood of Sleeping Car Porters would fight to get each car porter their plastic name card.
Grizzle would go on to spend twenty years with the Canadian Pacific Railway, even becoming president of the Toronto CPR division of the Brotherhood of Sleeping Car Porters in 1946, negotiating for better working conditions for porters. However, he would take a break in 1942, after he was conscripted into the Canadian Army during the Second World War. Nevertheless, Grizzle was disappointed by Canada's involvement in fighting for European democracy rather than fighting equality for Black Canadians at home.
During the war, Grizzle was infuriated by his assigned duties, which consisted of acting as a butler and shining shoes and cleaning officers' quarters. Grizzle would begin to refuse this work and say to his superior, "Sir, I realize that the only time you have seen a Black man has been as a servant, but I don't think it's very democratic." Grizzle would be discharged in February of 1946, and resume his work as a car porter, even enrolling in a few labour, economic, and public speaking courses at the University of Toronto.
In the early 1950s, Grizzle became a member of the Joint Labour Committee to Combat Racial Intolerance. On April 27, 1954, he met with provincial and federal leaders regarding anti-discrimination legislation and immigration policies for Black Canadians. At that time, according to The Canadian Encyclopedia, Canadian immigration policy restricted, and in some cases denied, equal immigration status to British Commonwealth applicants from the Caribbean, British Guiana (Guyana), India, Pakistan, Ceylon (Sri Lanka) and African countries who were trying to immigrate to Canada and gain citizenship. This was met with many tv and radio appearances for Grizzle.
In 1959, Stanley Grizzle and Jack White would become the first Black Canadians to attempt to gain seats in the Ontario legislature. Grizzle would finish third in his riding. In the early 1960s, Grizzle would become the first Black Canadian to be hired for the Ontario Ministry of Labour for his job as a clerk for the Ontario Labour Relations Board. He would remain on the board until Prime Minister Pierre Trudeau appointed him as the first Black Canadian citizenship court judge.
Stanley Grizzle would pass away on November 12th, 2016, in Toronto, Ontario, at the age of ninety-eight. During his lifetime Grizzle would receive many awards and honours, such as the Order of Ontario in 1990. Some of his other achievements have been listed below. Stanley Grizzle should be remembered for his efforts in challenging the colours barriers presented to Black Canadians. Grizzle dedicated his life to fighting for equality and receiving equal representation at each stage of his life from a car porter, a politician, and a citizenship judge. He made a significant impact on the lives of Black Canadians across the world.
Stanley G. Grizzle's Legacy, Awards, and Honours:
Order of Ontario (1990).
Canadian Labour Hall of Fame (1994).
Order of Canada (1995).
Published his autobiography, My Name's Not George: The Story of the Brotherhood of Sleeping Car Porters in Canada, Personal Reminiscences of Stanley G. Grizzle. (1998).
Presented with the Queen Elizabeth II Golden Jubilee Medal by the Government of Canada (2002).
The City of Toronto named Stanley G. Grizzle Park in his honour, at Main and Danforth in Toronto (2007).
Received the Lifetime Achievement at the Harry Jerome Awards (2010).
Received the Queen Elizabeth II Diamond Jubilee Medal, Government of Canada (2012).
Here is a quick video created by The Canadian Encyclopedia to illustrate the lives of sleeping car porters.
SOURCES
"Stanley Grizzle Obituary." Thestar.com, 18 Nov. 2016, www.legacy.com/obituaries/thestar/obituary.aspx?n=stanley-grizzle&pid=182591104&fhid=11035.
Oyeniran, Channon. "Stanley G. Grizzle." The Canadian Encyclopedia, Historica Canada, 15 Nov. 2018, www.thecanadianencyclopedia.ca/en/article/stanley-g-grizzle#.